DOBERMAN PINSCHER
RESCUE
OF MANITOBA







DOBERMAN PINSCHER
RESCUE
PLEASE, OPEN YOUR HEARTS!!!
GIVE A HOME TO AN ABANDONED DOBERMAN.
THERE ARE SO MANY OF THEM WITHOUT HOMES AND WARMTH OF FAMILY'S LOVE, VERY OFTEN COLD,
HUNGRY, IN PAIN AND FRIGHTENED.
THEY ALSO DESERVE A FEW YEARS OF A GOOD LIFE.


PLEASE, ADOPT A DOBE!!!
TIME IS RUNNING OUT FOR SOME OF THEM!

Breeders are responsible for
the dogs they breed for the lifetime of the dog.
Stud owners are responsible for
the puppies sired by their males.
Pet owners are responsible for
learning proper care and treatment for their pets.
We are all responsible for
the future of our breed!!!


DO I GO HOME TODAY?
by Sandi Thompson


My family brought me home cradled in their arms.
They cuddled me and smiled at me and said I was full of charm.
They played with me and laughed with me and showered me with toys.
I sure do love my family, especially the girls and boys.
The children loved to feed me, they gave me special treats.
They even let me sleep with them - all snuggled in the sheets.
I used to go for walks, often several times a day.
They even fought to hold the leash, I'm very proud to say.
These are the things I'll not forget - a cherished memory.
I now live in the shelter - without my family.
They used to laugh and praise me when I played with that old shoe.
But I didn't know the difference between the old ones and the new.
The kids and I would grab a rag, for hours we would tug.
So I thought I did the right thing when I chewed the bedroom rug.
They said that I was out of control, and would have to live outside.
This I did not understand, although I tried and tried.
The walks stopped, one by one; they said they hadn't time.
I wish that I could change things, I wish I knew my crime.
My life became so lonely, in the backyard, on a chain.
I barked and barked all day long to keep from going insane.
So they brought me to the shelter but were embarrassed to say why,
They said I caused an allergy, and then they each kissed me good-bye.
If I'd only had some classes, as a little pup.
I wouldn't have been so hard to handle when I was all grown up.
"You only have one day left", I heard the worker say.
Does that mean I have a second chance? Do I go Home today?

PLEASE READ THIS VERY SAD STORY.
THIS IS A TRUE STORY FOR THE MOST DOGS
FROM THE PUPPY MILLS AND SO CALLED BACKYARD BREEDERS.

I don't remember much from the place I was born. It was cramped and dark, and we were never played with by the humans. I remember Mom and her soft fur, but she was often sick, and very thin. She had hardly any milk for me and my brothers and sisters. I remember many of them dying, and I missed them so. I do remember the day I was taken from Mom. I was so sad and scared, my milk teeth had only just come in, and I really should have been with Mom still, but she was so sick, and the Humans kept saying that they wanted money and were sick of the "mess" that me and my sister made. So we were crated up and taken to strange place. Just the two of us. We huddled together and were scared, still no human hands came to pet or love us. So many sights and sounds, and smells!
We are in a store where there are many different animals! Some that squawk! some that meow! Some that Peep! My sister and I are jammed into a small cage, I hear other puppies here. I see humans look at me, I like the 'little humans', the kids. they look so sweet, and fun, like they would play with me! All day we stay in the small cage, sometimes mean people will hit the glass and frighten us, every once in a while we are taken out to be held or shown to humans. Some are gentle some hurt us, we always hear "Aw they are So cute! I want one!" but we never get to go with any. My sister died last night, when the store was dark. I lay my head on her soft fur and felt the life leave her small thin body. I had heard them say she was sick, and that I should be sold as a "discount price" so that I would quickly leave the store. I think my soft whine was the only one that mourned for her as her body was taken out of the cage in the morning and dumped.
Today, a family came and bought me! Oh happy day! They are a nice family, they really, really wanted me! They had bought a dish and food and the little girl held me so tenderly in her arms. I love her so much! The mom and dad say what a sweet and good puppy I am! I am named Angel. I love to lick my new humans! The family takes such good care of me, they are loving and tender and sweet. They gentle teach me right and wrong, give me good food, and lots of love! I want only to please these wonderful people! I love the little girl and I enjoy running and playing with her.
Today I went to the veterinarian. It was a strange place and I was frightened. I got some shots, but my best friend the little girl held me softly and said it would be OK so I relaxed. The Vet must have said sad words to my beloved family, because they looked awfully sad. I heard Severe hip dysplacia, and something about my heart... I heard the vet say something about, back yard breeders and my parents not being tested. I do not know what any of that means, just that it hurts me to see my family so sad. But they still love me, and I still love them very much! I am 6 months old now. Where most other puppies are robust and rowdy, it hurts me terribly just to move. The pain never lets up. It hurts to run and play with my beloved little girl, and I find it hard to breath. I keep trying my best to be the strong pup I know I am supposed to be, but it is so hard. It breaks my heart to see the little girl so sad, and to hear the Mom and Dad talk about "it might now be the time". Several times I have went to that veterinarians place, and the news is never good. Always talk about Congenital Problems. I just want to feel the warm sunshine and run, and play and nuzzle with my family. Last night was the worst, pain has been constant now, it hurts even to get up and get a drink. I try to get up but can only whine in pain. I am taken in to the car one last time. Everyone is so sad, and I don't know why. Have I been bad? I try to be good and loving, what have I done wrong? Oh if only this pain would be gone! If only I could soothe the tears of the little girl. I reach out my muzzle to lick her hand, but can only whine in pain. The veterinarian's table is so cold. I am so frightened. The humans all hug and love me, they cry into my soft fur. I can feel their love and sadness. I manage to lick softly their hands. Even the vet doesn't seem so scary today. He is gentle and I sense some kind of relief for my pain. The little girl hold me softly and I thank her, for giving me all her love. I feel a soft pinch in my foreleg. The pain is beginning to lift, I am beginning to feel a peace descend upon me. I can now softly lick her hand. My vision is becoming dreamlike now, and I see my Mother and my brothers and sisters, in a far off green place. They tell me there is no pain there, only peace and happiness. I tell the family good-bye in the only way I know how, a soft wag of my tail and a nuzzle of my nose. I had hoped to spend many, many moons with them, but it was not meant to be. "You see," said the veterinarian "Pet shop puppies do not come from ethical breeders." The pain ends now, and I know it will be many years until I see my beloved family again. If only things could have been different.
(This story may be published or reprinted in the hopes that it will stop
unethical breeders and those who breed only for money and not for the
betterment of the breed. Copy write 1999 J. Ellis)



I am Famous Now
by Dawn Phelan

I was born today, one of 10. My daddy was very famous. I have lots of half brothers and sisters. My mother is very famous. Since she got famous, she has only had puppies. No more loving hands, no more fun trips....just puppies. She is always sad when they leave her.
I left home today. I didn't want to go, so I hid behind my mama and my three litter mates that were left. I didn't like you. But one day they said I would be famous. I wonder; is famous the same as fun and good times? So you picked me up and carried me away, even though you were concerned about me hiding from you. I don't think you like me.
My new home is far away. I am scared and afraid. My heart says "BE BRAVE". My ancestors were brave. Did they go to good homes like mine? I'm hungry because I can't eat too much, as they say it will be bad for my bones. I can't snap or bite when the children are mean to me. I just run and play, and pretend that I am in a big green field with butterflies, robins and frogs. I can't understand why they kick me. I am quiet, but the man hits and says loud things. The lady doesn't feed me good things like I had with my mother. She just throws dry food on the ground, then goes away before I can get too close for touching and petting. Sometimes my food smells bad, but I eat it anyway.
Today I had 10 puppies. They are so wonderful and warm. Am I famous now? I wish I could play with them, but they are so tiny. I am so young and playful, that it is hard for me to lay here in this hole under the house nursing my puppies. They are crying now. I am so hungry. I scratch and worry my fur. I wish someone would throw me some food. I am also very thirsty. I now have eight. Two got cold during the night, and I couldn't make them warm again. They are gone. We are all very weak. Maybe if I take them out onto the porch, we can get some food.
Today they took us away. It was too much trouble to feed us, and someone came to take us away. Someone grabbed my puppies, they were crying and whimpering. We were put in a truck with boxes in it. Are my babies famous now? I hope so, because I miss them. They are gone. The place smelled of urine, fear and sickness. Why was I here? I was beautiful like my ancestors. Now I am hungry, dirty, in pain and unwanted. No one came, though I tried to be good.
Today someone came. They put a rope around my neck, and led me to a room that was very clean and had a shiny table. They put me on the table. Someone hugged me. It felt so good!!! Then I felt tired and laid over the last one who cared.
I AM FAMOUS NOW. Today someone cared.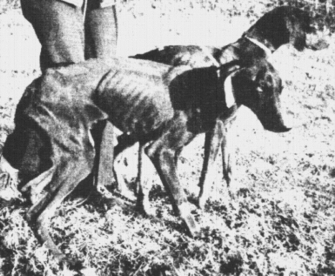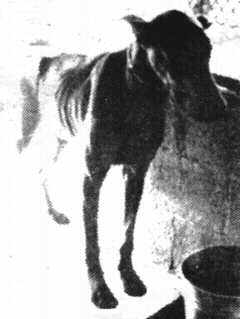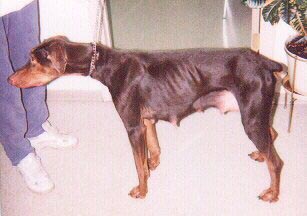 THIS IS ANGIE SHE WAS A RESCUED DOBE

Apollo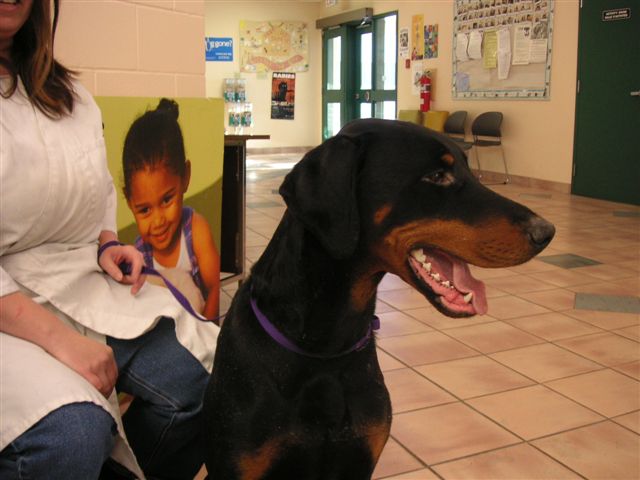 This dobe boy was rescued from animal services he went to a loving home which the new owners called him Apollo which Apollo is very loved and spoiled a happy ending for this boy.
Rescued December 24th 2007

---
THERE WILL BE MORE PICTURES AND HAPPY ENDING
POSTED SOON ON DOBERMAN RESCUE
---

---