This page is a tribute to the most beautiful, graceful, noble, intelligent, affectionate, gentle, sensitive, and loyal breed of dogs in the entire Universe: the dog of all dogs - Doberman Pinscher.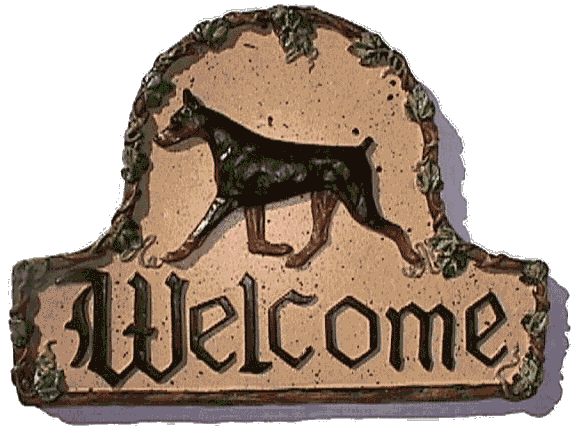 MALADOB'S CKC REGISTERED DOBERMAN PINSCHERS.
WHAT YOU CAN FIND ON MY DOBERMAN SITE:
Hi there My name is Debbie Savage I am the owner of Maladobs Registered Kennel which I have been breeding/showing Dobermans for 22 years now. I was 18 years old when I got my first male Doberman, he was a red/tan male Registered name was Sun Ridges Sky-Hawk - call name Joey, his pedigree was from Marienburg blood lines. I showed Joey in obedience and got his CD title. I also showed him in conformation and he was pointed towards his championship, I also used Joey at stud and I kept a black/tan female from him, which she passed away at 15 months from blasto - her call name was Samantha. My next Doberman I got was from Winnipeg, Manitoba, she was a black/tan adult female registered name Frusen Gladje Dob-Mann (USA), call name Turi. Her bloodlines were from Tolivar kennels. I bred her with CH Dawnaquinns Dream of Kings CD, call name Carl, which I kept stud rights on a male - his registered name was Maladobs Apollo to the Max, call name Apollo. Then I bought my foundation bitch from Powell River B.C. from Darkevs kennels, Darlene Steiger, this bitches name was CH Darkevs Take It Easy, call name Santana . This bitch produced many champions. I bred Santana to Apollo and I kept a bitch from Santana and Apollo which I bred and showed, her name was CH Maladobs Crusien to Win - call name Tosha and Tosha= s sister CH Maladobs Lets Go Cruisen, call name Sada. Sada I bred and she was top producing bitch of her time. Two of my Dobermans I have at home with me are out of Tosha and a red boy named Rusty - registered name Maladobs Precious One Rusty. I am a good standing member of the CKC. There are lots of Canadian and American Champions threw out my pedigree. All my puppies have a written health Guarantee. I have a few stud dogs to approved bitches only. My Dobermans I bred have Excellent bone substance and structure. My dogs have excellent temperaments also. Puppies to selected loving pet and show homes only. Adults occasionally. I also do Doberman Rescue in Manitoba. I live in Winnipeg, Manitoba, Canada. I have 3 Dobes that live at home with me. My Dobes live in my home, not in kennels. I also have breeding rights on a few males and females that I have bred and can bring back for my breeding program which they do not live with me. All my puppies are home raised with kids, ( my 2 nieces), dogs and cats. My Dobes are a part of my family and they are my kids .I am a reputable breeder and my puppy's and adults health and temperaments is most important in my breeding program Not only health and temperaments are important but conformation in my dogs and a well obedient dog. I give my puppy buyer life time support.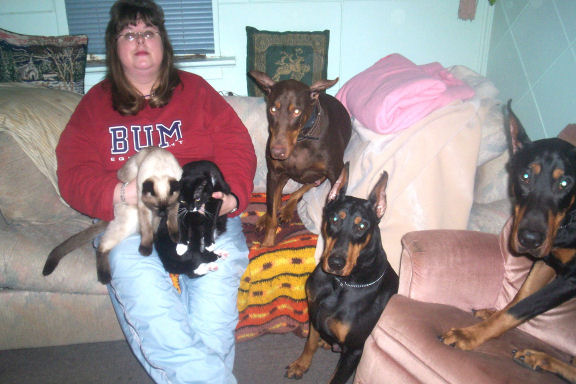 Me, Damion (right) Saline (middle ) Bryna( left) and my 2 cats Braven ,Arrow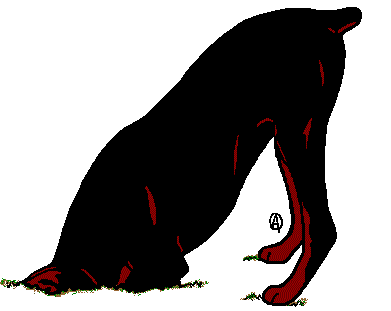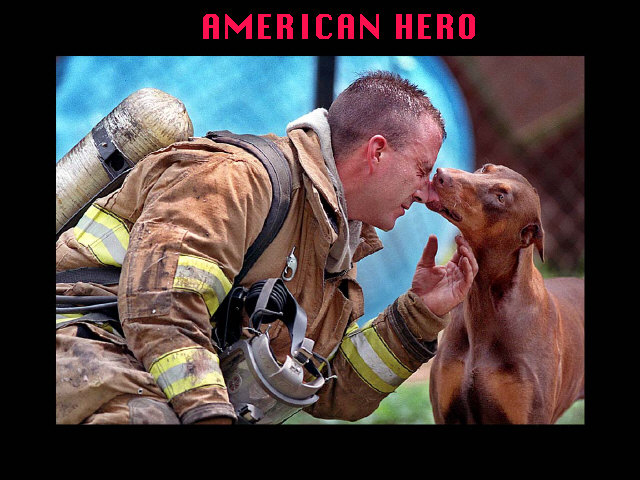 Please, sign my Guestbook.

Thank You for signing my Guestbook.